Hey!
So this week I did mostly documentation stuff, though I did do some quick something for the in-game interface and particles, though it's still the unity default particle.
I also did some performance testing on my Ouya and managed to get it running at round 40 fps at 720p, which is decent enough for me to consider putting this game out on Ouya!
Aside from that I did some minor work on the kart race game I'm working on on the side, made it so the character leans where you turn to: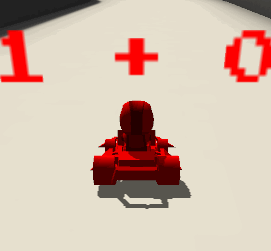 (Don't mind the red or the numbers, the numbers just indicate position and number of laps driven right now for debugging)
That's all I got done this week sadly, hoping to get some more work done in the coming week since I have a sort of inbetween deadline coming up in two weeks for the school project and want to have some cool stuff running by then.
Be sure to check back next week, same time, same place!
-ShadowBrain
PS: Download my android game if you can please! (It's free!)
https://play.google.com/store/apps/details?id=net.ShadowBrain.SpaceShooter